Radio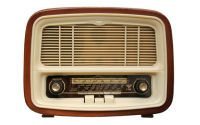 Calamity Jade's profound love of music and extensive knowledge of funk & soul meant it didn't take long for radios to come knocking on her door. In 2013 this resulted in the birth of her weekly radio show Funk Shui on Italy's biggest regional station Radio Popolare. The program showcases the hottest funk, soul, jazz, afro, boogie, disco, breaks and grooves, with particular attention towards modern productions and the independent artists and labels to look out for.
Just like the ancient Chinese art of Feng Shui determines the best arrangement of objects and furniture inside a space according to the canons of Tao, Funk Shui tries to combine sounds and rhythms inside 55 minutes of musical programming, following as its only principle the search for the perfect groove.
From dusty 33 rpm records of the 70s up to today's limited edition 45s or the most recent remixes released exclusively via digital download, the only rule is that the music has to take the listener on a trip along the road less traveled of funk, that vibrant niche that decades after the hits of James Brown can still count on a growing number of fans worldwide.
The first 8 seasons of the show ran from 2013 to 2017 and aired every Saturday at 11pm. Each episode included a special feature on a contemporary artist who presented 3 tracks from their catalogue to introduce the listeners to their sound. Guests include names such as Lee Fields, Omar Lye-Fook, Bosq and Nicole Willis and members of bands such as Cookin' On 3 Burners, The New Mastersounds, The Dap-Kings or Jungle Fire. These episodes are all available on this website at the links below.
After a 2 year hiatus Funk Shui returned in 2019 with the new airtime of Wednesday nights at midnight and a revamped formula: no specials, no talkovers, just one hour of uninterrupted grooves selected with love. Check out Funk Shui Reloaded Season 2019-2020 here.